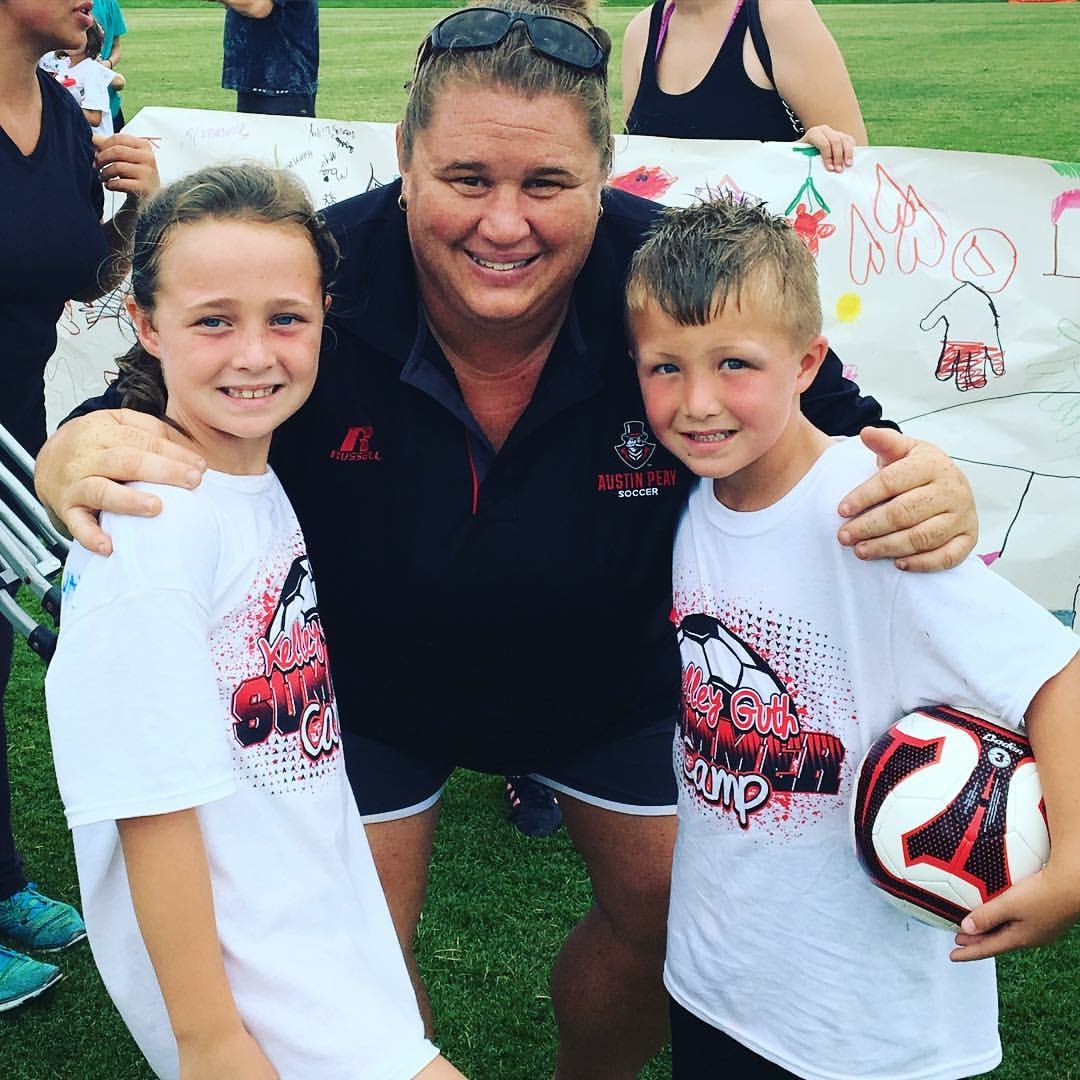 Kelley Guth has offered Kelley Guth Soccer Camps for the Clarksville and surrounding communities for the past 18 years. She is a former NCAA Division I Head coach. She was hired as the first head coach at Austin Peay in 2002 and led the program for 16 seasons. Kelley is a 3X Collegiate All-American at Simon Fraser University. Twice named Regional and Conference Player of the Year. She transferred to Florida State for her senior campaign. As a Senior she led, FSU to their first winning season in program history. She was leading goal scorer and held a record for game winning goals for many years. She was named FSU Offensive MVP and awarded Soccer America Team of the Week for her performance against ACC's NC State and Duke.
Kelley currently serves as the Academy Director for Clarksville Soccer Club and is an adjunct faculty member at Austin Peay teaching courses in the Health and Human Performance Department. Kelley also is the the owner and director of Play It All Sports Camps, a multi-sport summer camp program for children of all ages.
Kelley has her NSCAA Advanced National Diploma, her Canadian C License and her USSF National D license. She also holds the USSF 4 v 4 Grassroots Diploma, Goalkeeper Diploma Level I and her F License through USSF Soccer.
As a youth player, she was a three time National Club Champion in Canada. She traveled to Europe as a member of the Provincial Development Program at 14 years old. She represented TEAM CANADA and trained with the National Training Center from age 14 through college. She was an alternate to the 1995 World Cup team and earned a cap in a home series where Canada played Australia. She was named Player of the Match for that game. She was a member of the U23 Canada Games Squad that represented British Columbia in 1995. She played professionally for the Fort Collins Force and Jacksonville Jade following her collegiate career, winning a National Championship in the W-Leauge with Ft. Collins Force in her final season of play. Kelley was indicated into the North Delta Sports Hall of Fame for her accomplishments in soccer. Kelley also played college softball at both Simon Fraser and Florida State University. She was a part of the ACC championship team at FSU in 1997.
Kelley has a Master's degree in Sport Administration and is currently pursuing a doctorate degree in Educational Leadership.